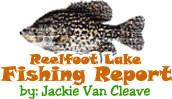 Reelfoot Lake Fishing Report for:
March 30th, 2007
Not much has changed with the weather or the fishing. Both are still great. We did have some rain a few days ago that might raise the lake level a bit. Besides that were holding steady and that means that the crappie should be spawning any time now.
The lake level is an inch or two above pool level and the water temperature was 70 degrees as of Thursday. Here's the rest:
Crappie - Excellent. Jackie has been catching a lot of black males and white females. Still looks like pre-spawn conditions. Spawn should be on any day, maybe today.
Jackie recommends 10 feet of water or less right now. They aren't catching a lot on the banks yet, but as mentioned the spawn should be here soon and the bank fishing should come along with it. Minnows work well in the deeper water. Jigging works well in the shallows, especially if there's a little stain in the water.
Bass -If you know how to fish for spawning bass you should love it right now. The big females are on the beds. Would be considered excellent bass conditions right now.
Hit every shallow water stump you find along with any other structure. Allen Basin and Big Starve are good areas.
Bluegill - Bluegill fishing is good. Not many people chasing them yet with the crappie conditions being so good. If you went after them you should be able to catch a good mess.
Popeye jigs tipped with waxworms work well. Some of the top colors are red/white, blue/white, black, yellow and lots of others. For more info on popeye jigs visit this website: www.spittinimagepopeye.com
Catfish - Good. Hit some of the logs and submerged structure out from the points (100 yards or so). Stinkbait, nightcrawlers and shad gut should all work.
Keep in mind that the ditches could begin producing again if this rain starts putting some current in there.
Good Fishing!
Click Here
For Other Reelfoot Lake Fishing Reports
Jackie Van Cleave is a guide for Blue Bank Resort. For more information on Jackie's guide services: Click Here
---
Questions and Comments:
Email the Webmaster
Here




Phone: 731-286-NETW
828 Granger Circle
Dyersburg, TN 38024
Page designed by : The Hometown Network
All contents except Mallards on front page and David Maass
artwork are property of Reelfoot.com