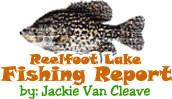 Reelfoot Lake Fishing Report for:
March 30, 2013

WARMER WEATHER IN FORECAST....CRAPPIE BITE GOOD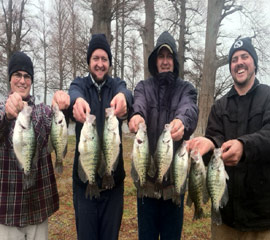 Welcome fisherman,
Jackie Wayne's back with another fishing report. Well it's been good for catching fish. The weather is still cold and windy. Old Man winter is still hanging on.
Water temperature is in the high 40's,and 50,s. the bite is now in 12 feet to16 feet water. They are at lower blue Basin. Crappie are doing good at this time, blue gill are slow, catching them in ditches, shallow water 3 to 5 feet deep. Cat fish are real slow, no report Stripes are slow to fair. Bass are doing good in duck holes and around duck blinds on strike king jigs,color black and blue., craw fish, 3/8 oz., The white and black crappie are moving in to buck basin and Buzzard slew .They are being caught on Strike King tubes, colors are chart,, black chart. red white. Water level is above pool and in great color. Casting for black crappie is now on in shallow water. Be sure to anchor your boat so that you can fish correctly. Be sure to be as quite as possible so you want spook the fish. New comers to Reelfoot need to get a guide for the first day so they can show you how to fish and where the best places you can go. Be safe and follow rules. until next time Jackie Wayne...
"Gone Fishing"

If you need me my number is 731-431-9700

The Spring Crappie Bite Is On!!!
Click Here
For Archived Reelfoot Lake Fishing Reports
For more information on Jackie's guide services: Click Here
---

Page designed by : Reelfoot.com
All contents except Mallards on front page and David Maass
artwork are property of Reelfoot.com