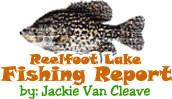 Reelfoot Lake Fishing Report for:
March 4th, 2005
Crappie provided some good action this week. Bass fishermen aren't catching a lot, but catching some good sized fish right now.
The temps have been cold at night, but warm during the day and steady. Wind has also let anglers have more freedom lately. Look for good crappie fishing to continue with steady temperatures. However, the wind could be a factor again over the next couple of days.
Lake level is still a couple inches above pool stage and water temperature is around 49 degrees. Here's the rest:
Crappie-Jackie did well yesterday. The wind was calm and the weather was warm. Was catching some nice sized fish in 7-9 feet of water. He brought in 40 good keepers with a few 2+ pounders in there.
He's hitting the lake in mid-morning right now, around 9:00 am or so, and says they're biting as soon as he gets out there. Tried some jigs early on, but they were hitting the minnows better.
The fish are still bunched up for the most part, but they are starting to move a little as the pre-spawn nears. He didn't have to cover much area to catch a mess. Which means, Fish Slow!
Bass - Would be considered fair. Bass fishermen aren't catching a lot, but the average size fish has been very nice. Catching a lot of females in the 5+ category.
We talk a lot about the same old baits for bassing on Reelfoot (spinnerbaits, tubes, jerkbaits, etc.). The thing is, you need to fish what you have confidence in and what will work the cover you're attacking at the time. Of course, the spinnerbait is ideal for working around the stumps of Reelfoot. But, if you're adept with a certain style lure then use it. Bass are bass no matter what lake you're on.
Bluegill -Slow. We'll probably see some good days here and there over the next month or so. But, it's still a little early for bream fishing.
Good Fishin Folks!
Click Here
For Other Reelfoot Lake Fishing Reports
Jackie Van Cleave is a guide for Blue Bank Resort. For more information on Jackie's guide services: Click Here
---
Questions and Comments:
Email the Webmaster
Here




Phone: 731-286-NETW
828 Granger Circle
Dyersburg, TN 38024
Page designed by : The Hometown Network
All contents except Mallards on front page and David Maass
artwork are property of Reelfoot.com