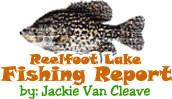 Reelfoot Lake Fishing Report for:
March 5th, 2004
Unseasonably warm weather has really picked up the water temperatures and the fishing. Anglers are having good success with the crappie this week and we're also beginning to see some action with other species.
Jackie reported that the water temperatures were 55 degrees in the shallow water on Thursday. That's a big jump and it was evident with the anglers we heard from.
Temperatures are predicted to head back towards freezing on Sunday night, so get out there now if possible. The cold spell could change things in a hurry.
Let's hope the good crappie fishing continues for this weekend's big tournament. Here's the rest:
Crappie: Crappie fishing was excellent this week. Of course that doesn't mean it will continue after the current front goes through. Early spring fronts can change things in a hurry. But, they've been catching a bunch and anglers have even had success in the shallow water this week (3-4 foot). That's awful shallow for this time of year.
Deep water anglers are also having success. So: They're biting in the shallows, they're biting in the deep, it's all good while it lasts.
The nice thing about the crappie moving shallow is the fact that you can catch fish even when it's windy. When they're holding deep, most areas aren't accessible under windy conditions.
Areas that have reported good success this week include: Allen Basin, Buzzard Slough and Gray's Camp.
Bass: Finally picking up a little. Would still just be considered fair/good. Jackie went after them the other day and while they didn't catch a bunch, they did catch some nice sized fish. It was also evident that things were picking up.
Top baits right now include: White Spinnerbaits, Topwaters (worked slow), jerkbaits and a swim-n-image style crankbait.
One tip that Jackie has for the swim-n-image, or any crankbait for that matter, is to use the shad color on clear days and what he calls a rainbow color on the cloudy days. The shad color looks better when they can get a good look at it. The brighter colors give the bait more visibility when they can't.
Bluegill: Even catching a few of these lately. Still awful early for em and the fishing at this point would be considered just fair. They've been catching them 2-3 feet deep, suspended in 3-5 feet of water.
Click Here
For Other Reelfoot Lake Fishing Reports
Jackie Van Cleave is a guide for Blue Bank Resort. For more information on Jackie's guide services: Click Here
---
Questions and Comments:
Email the Webmaster
Here




Phone: 731-286-NETW
828 Granger Circle
Dyersburg, TN 38024
Page designed by : The Hometown Network
All contents except Mallards on front page and David Maass
artwork are property of Reelfoot.com