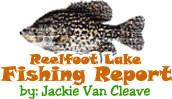 Reelfoot Lake Fishing Report for:
March 5th, 2007
The wind finally slacked off and the crappie fishing is excellent right now. Jackie made it out today and brought in 45 nice keepers fishing from 10-2. That's a heck of a day anywhere.
Look for calm (or some semblance thereof) winds tomorrow to really pick the crappie fishing and the crappie fishermen up. You better get out there if you can. Relatively calm days in March are few and far between.
Jackie was catching his fish in 8 feet of water on minnows in the area out from Green Island Point.
Shallow water should start to see a big improvement soon, though it's doing pretty well right now. Try casting or jig fishing the shallows for crappie if the wind is up.
Lake level is 4 inches above pool level. Water temperature is 48 on the main lake. Probably a couple of degrees warmer in the shallows. Here's the rest:
Bass- We're staring to get a few bass reports. Right now it would only be considered fair to good.
Fish really slowly for the bass in 2-4 feet of water around the bonnet roots. Those are the root wads that you see floating to the top.
Jackie recommends a frog colored tube bait. Many others will produce as long as they provide a slow presentation.
Bluegill- The bluegill fishing is good right now. Popeye jigs tipped with waxworms are the top bait. Brewer Bar is a good area.
The setup for bluegill fishing is a slip bobber with a bb size split shot about 6 inches above the hook. Once again, fish slowly. Try a spot for a few minutes and if nothing bites just move a foot or two and try it again.
Of note: The crappie masters tournament this past weekend had a winning 7 fish stringer of 11 lbs. We'll hopefully have more information on that tournament soon.
Good Fishing!
Click Here
For Other Reelfoot Lake Fishing Reports
Jackie Van Cleave is a guide for Blue Bank Resort. For more information on Jackie's guide services: Click Here
---
Questions and Comments:
Email the Webmaster
Here




Phone: 731-286-NETW
828 Granger Circle
Dyersburg, TN 38024
Page designed by : The Hometown Network
All contents except Mallards on front page and David Maass
artwork are property of Reelfoot.com