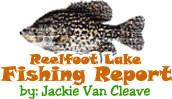 Reelfoot Lake Fishing Report for:
April 10th, 2008
We'll post some new articles tonight or tomorrow, but had to get this fishing report up because it's a good one.
The water is warming up, the dogwoods are blooming and "The Bite Is On", as Jackie says. Crappie and bass fishing have been excellent in the last few days and bluegill/catfish aren't far behind.
That being said, the weather ain't lookin so good for the next couple of days. Thunderstorms are coming in tonight and it's very breezy out there right now. High winds are predicted for tomorrow and then the cool down comes through. This might slow it down, but don't look for it to last long if it does and it'll be on again.
Water level is very high, maybe a couple of feet above pool level. We get a lot of questions asking if this will hurt the fishing. The makeup of Reelfoot Lake is different than most lakes and the high water just provides more cover for the spawning fish in a variety of depths. High water is never as drastic as other lakes might experience also. We're just talking about a couple of feet, as opposed to 10+ on some lakes. Not only does it not hurt the fishing, but it provides for excellent spawning conditions. Hopefully that means good years ahead.
One inconvenience that the high water does contribute to is a little difficulty putting boats in at the ramps. You might want to bring along some hip boots, as the ramps (or at least where you put in) are shallow.
One last note: Jackie and Tim Blackley of Blackley Chevrolet in Hornbeak went down to Grenada, MS last week and won the Crappiemasters tournament. Was Jackie's first time to ever see the lake and they brought in the biggest stringer that the Crappiemasters tour has seen this year. Congrats to both of these gentlemen. We'll post an article soon.
Water temperature is 60-62. Here's the rest:
Crappie - Excellent right now. Jackie limited out with keepers in 3 1/2 hours on Tuesday and caught a bunch on Wednesday.
They are starting to spawn and moving shallow in a hurry. Depths of 1-12 feet are producing. Both minnows and jigs are working well. Good jiig colors include black/chartreuse and blue/white, but use what you like and you'll probably do well.
Bass - Bass fishing has also been excellent. Shallow stumps are a top spot to try. Buzzbaits, spinnerbaits and crankbaits are all bringing in some nice fish. Top spinnerbait colors, as always, are white and chartreuse. Jackie's favorite crankbait this time of year is the Strike King 4S in shad color or with a blue back.
Catfish - Catfishing has picked up and would be considered good. Shallow logs are a good spot. Also, try the ditches. The current is moving through the ditches and providing good action on some good eating size fish.
Nightcrawlers are Jackie's preferred bait this time of year. As it warms up later in the year he'll switch to stinkbait and shad.
Bluegill - Good. Try popeye jigs tipped with mealworms in 1-2 feet of water.
Good Fishing!
Click Here
For Archived Reelfoot Lake Fishing Reports
Jackie Van Cleave is a guide for Blue Bank Resort. For more information on Jackie's guide services: Click Here
---


Phone: 731-286-NETW
828 Granger Circle
Dyersburg, TN 38024
Page designed by : The Hometown Network
All contents except Mallards on front page and David Maass
artwork are property of Reelfoot.com