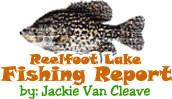 Reelfoot Lake Fishing Report for:
April 1st, 2005
Fishing is in prime form right now. As Jackie said, "It's on like a neckbone". Crappie fishing has been excellent with bass, bluegill and catfish not far behind.
Lake level has risen considerably with the recent rains and is now about 8 inches above pool stage. Water temps are reaching up to 62 degrees in the shallows. That's crappie spawning temperature folks. So, get out there when you can.
High winds are predicted this weekend. Plan you travel route accordingly. Actually, high winds can be a factor on any given day this time of year. Be careful crossing open water. Here's the rest:
Crappie-Excellent. Crappie are beginning to spawn in depths of 7 feet or less. Males are coloring up nicely and the next few weeks should produce some great action as the females move in.
Minnows have been the top bait, but jigs would probably work well in the shallows also. The water has muddied up a little with all the rain, so the shallow water fish shouldn't be quite as spooky.
Here's a picture of a nice mess of Reelfoot Lake...crappie caught last week.
Bass - Another good week for bassing on Reelfoot. Not excellent, but even better than last week.
You might give the ditches a try, as the bass move through on their way to the shallow water. Both the mouths and up in the ditches should provide some action.
Top baits remain the same (spinnerbait in chartreuse/white, shad color jerkbaits, blue and black worms, jigs). With the water warming, it might also be time to start topwater fishing.
Bluegill -Best fishing of the year for these scrappy little fellows also. Would be considered good also. Popeye jigs in black, red and white. Tip them with a waxworm for best results.
Shallow water areas including trees, pads and the ditches are the top spots.
Catfish - Good. As mentioned, the lake level is very high right now. That means that the water is moving through the ditches, which means the catfish will be there looking for an easy meal floating by.
Nightcrawlers and stinkbait fished in the ditches should be a good bet for some cats.
Yellow Bass - No Reports
Good Fishin Folks!
Click Here
For Other Reelfoot Lake Fishing Reports
Jackie Van Cleave is a guide for Blue Bank Resort. For more information on Jackie's guide services: Click Here
---
Questions and Comments:
Email the Webmaster
Here




Phone: 731-286-NETW
828 Granger Circle
Dyersburg, TN 38024
Page designed by : The Hometown Network
All contents except Mallards on front page and David Maass
artwork are property of Reelfoot.com