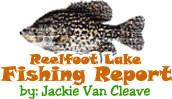 Reelfoot Lake Fishing Report for:
April 15th, 2005
Had some trouble catching up with Jackie this week. The crappie fishing is on and he's been hard at it bringing in those Reelfoot Lake slabs.
While I was on the phone with him today he brought in 4-5 fish, if that tells you anything. Couldn't hardly get a report for him having to land fish.
So, suffice to say that today has been some excellent fishing. The wind isn't bad at all and the weather for Saturday is supposed to be even nicer. Many other species are doing well also. It's time folks. Get out there if you can.
Lake level is 6 inches above pool and water temps were at 63 degrees in 5-6 feet of water. Here's the rest:
Crappie- It's excellent right now. The crappie are spawning and will probably continue to do so through the middle of May. Catching a lot of big black males right now.
Jackie was doing well fishing 4-5 feet deep in 6 feet of water. He's using minnows, but it's a great time for jigging around the trees also.
Bass - Good. Catching some big females around the stumps in 4-6 feet of water. Try a shallow running crankbaits in a shad color. Jackie recommends Strike King's 4S crankbait.
Bluegill - Good. Some really nice bluegill catches lately. Try the same depths as the crappie, but use a popeye jig tipped with a waxworm. Jackie likes the white heads with a black body and white tail on the popeyes.
Catfish - Good, might even be excellent. Said they're, "Tearing them up on yo yo's right now". They've been catching most of them on nightcrawlers, but stinkbait should produce also.
As always, when the lake is high, try the mouths of ditches. But, their are a bunch of good areas when they're biting so well.
Yellow Bass - No Reports
Good Fishin Folks!
Click Here
For Other Reelfoot Lake Fishing Reports
Jackie Van Cleave is a guide for Blue Bank Resort. For more information on Jackie's guide services: Click Here
---
Questions and Comments:
Email the Webmaster
Here




Phone: 731-286-NETW
828 Granger Circle
Dyersburg, TN 38024
Page designed by : The Hometown Network
All contents except Mallards on front page and David Maass
artwork are property of Reelfoot.com