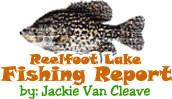 Reelfoot Lake Fishing Report for:
April 15, 2012

BLUEGILL ON BED...CRAPPIE AND BASS ENTER POST-SPAWN PHASE

Reelfoot Lake is about a 8" above pool level. Water temp is 72-74. Water color is perfect for fishing with a slight stain.

A cold front at midweek, sent anglers back to the closet for overcoats that had been tucked away most of the spring. It appears nice weather is in the process of returning.

Winds packed a punch this week and brought the mercury down to the mid 30ís at night and daytime highs were in the mid to upper 50ís. It was a big change from the 80ís last week.
While the crappie are in post-spawn phase it doesnít mean the bite is over. There are still some good days ahead.

April will likely have some late spawning taking place. The fish got an early start this year. There will still be plenty of good fishing as all the fish donít spawn at the same time.

Bluegill were going on bed early before the cold front. Some reported already catching them in shallow bedding areas next to the shoreline grass, trees and pads.

Watch for action to pick back up as warm and sunny days will trigger the bluegill back to the spawning areas. Some were already on the beds, but the cold front will put them around the trees and pads. The bluegill will be ahead of schedule too, so watch for them to start spawning soon.

Bluegill: Good: The bluegill are schooling up near the bedding area around shore, trees and pads in 2-3' water.
Crappie: Good: Some hefty stringers have been taken in depths of 3 to 8 feet casting jigs and jigging the trees. A few white crappie are still spawning. Some crappie are being caught trolling jigs and minnows in 3-8' water. Remember, the limit is 30 Crappie per day per man. There are no size limits on Reelfoot Lake.
Bass: Good: The bass are spawning. Some big bass are staging around the deeper trees in 4-8' water. Some bass are in the pads and biting tube jigs. Fishermen are having success tossing spinnerbaits, jig-n-pig, suspending jerk baits and top water presentations.
Catfish: Great: The catfish are biting in the ditches. Blocks and yo-yos are catching fish out from the grass and trees.
Stripes: Slow
Click Here
For Archived Reelfoot Lake Fishing Reports
Jackie Van Cleave is a guide for Blue Bank Resort. For more information on Jackie's guide services: Click Here
---

Page designed by : Reelfoot.com
All contents except Mallards on front page and David Maass
artwork are property of Reelfoot.com