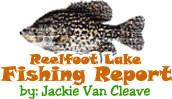 Reelfoot Lake Fishing Report for:
April 16th, 2004
Snow in April? What in the world is going on here. A record late snow hit west Tennessee this week and shut the fishing down for a couple of days.
Good news is, it's heating up quickly. Temps are predicted to be in the 70's on Friday and up to 80 by Saturday. Barring a blizzard, it should be prime time this weekend. The wind could be a factor, so plan your fishing spots accordingly. Get there early, as the ramps will be pretty busy.
Reports from last weekend were good for Crappie, Bass and Bluegill. That all changed on Wednesday when the cold front came through.
Water temps had cooled to 54 degrees late Wednesday afternoon. That will change a lot in the next few days. Lake level is a couple of inches above pool. Here's the rest:
Crappie: The cold front put the hurt on them Wednesday.
We talked to Jackie on Thursday morning while he was on the lake. He called the fishing slow. Then proceeded to bring in 4 or 5 nice crappie while we were on the phone for 10 minutes. Things may be looking up already. If not, they will soon.
They should be in a variety of depths as they move in to spawn, but don't worry too much about water over 7-8 foot deep.
Minnows are the top bait, but jigs should produce some fish also.
Bass: Cold front hurt them also. Fishing was good last weekend with one tournament being won with a 23 1/2 pound stringer. To read about the big ones they brought in...check out this article.
Should be some good fishing again within the next few days, or sooner.
Spinnerbaits in white and/or chartreuse are always a safe bet. Soft plastics and jerkbaits are other top choices.
Bluegill: Same thing. Was good til front hit. The front could affect them more than others, since it's a little early for them anyhow.
No report on other species.
Click Here
For Other Reelfoot Lake Fishing Reports
Jackie Van Cleave is a guide for Blue Bank Resort. For more information on Jackie's guide services: Click Here
---
Questions and Comments:
Email the Webmaster
Here




Phone: 731-286-NETW
828 Granger Circle
Dyersburg, TN 38024
Page designed by : The Hometown Network
All contents except Mallards on front page and David Maass
artwork are property of Reelfoot.com