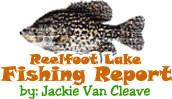 Reelfoot Lake Fishing Report
April 16, 2016

CRAPPIE SPAWN NOW UNDERWAY
SPRING IS HERE

Jackie Wayne's Back...it's time for another fishing report for Reelfoot Lake I've been getting calls so here it is folks.
Warm sunny days finally moved in and heated up the Reelfoot Lake fishing scene.
Water temp is in low 60s...Lake level is 8 in.
above pool which is good.
Crappie are moving in to shallow water like 2 to 5 feet so get your jig poles ready. The shore lines are going to be red hot in about a week. Deep water fishing is still good on minnow rigs...5 to 8 feet of water with jigs tip with minnows.
Bass are still in 3 to5 feet of water hitting top water baits spinners, lizards, and jigs. Duck blinds are hot...so are the trees...don't fish to fast slow down and focus
Blue Gill are biting good around shore lines, trees, and stumps...jigs tipped with wax worms and crickets.

Catfish are biting good in the ditches.
Till next time God Bless and have fun!
Thanks Jackie Wayne !
.
For fishing guide give me a call....

731-431-9700
Jackie Wayne


Click Here
For Archived Reelfoot Lake Fishing Reports
For more information on Jackie's guide services: Click Here
---

Page designed by : Reelfoot.com
All contents except Mallards on front page and David Maass
artwork are property of Reelfoot.com