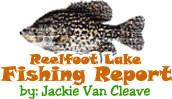 Reelfoot Lake Fishing Report for:
April 18th, 2007
We have had two straight weeks of hard winds and cold fronts and haven't had much to report in a while. The winds finally slacked off on Tuesday and remained calm today. The weather has warmed back up also. So, they should be tearing them up out there now, Right? Not the case, at least not yet.
Water temperatures are still in the mid 50's (56 today) and the fishing remains tough. May take the fish a few more days to get back up to where they left off before all this cold weather.
Warm weather is predicted over the 5 day forecast, so look for things to pick up soon. What day exactly is anybody's guess. Could be tomorrow, could be this weekend. When it does pick back up it should be some hot and heavy fishing action, so be ready.
Lake level is a couple of inches above pool level. Here's the rest:
Crappie - Crappie fishing is fair, but that's about it. They moved out of the shallows with the cold weather. They should be moving back in as the water warms back up. Look for some improvement any time now.
On a positive note: The fish that are being caught right now are very good size. A lot of 1 1/2 to 2 lb. fish lately.
Minnows are the top bait. Depths could change everyday. You might start on the shallower end and move deeper until you find them.
Bass - Slow. They haven't recovered at all and might take a little while to do so.
Bluegill - Fair. Popeye jigs tipped with waxworms are the top bait.
Catfish - Good. 3-5 feet are good depths. If you can get in the ditches when the boat traffic isn't too bad, you should do well there. The Forked Pond area (out from Samburg) is a good area also.
Top baits include nightcrawlers, stinkbait and shad gut.
Click Here
For Other Reelfoot Lake Fishing Reports
Jackie Van Cleave is a guide for Blue Bank Resort. For more information on Jackie's guide services: Click Here
---
Questions and Comments:
Email the Webmaster
Here




Phone: 731-286-NETW
828 Granger Circle
Dyersburg, TN 38024
Page designed by : The Hometown Network
All contents except Mallards on front page and David Maass
artwork are property of Reelfoot.com