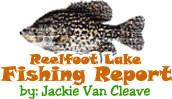 Reelfoot Lake Fishing Report for:
April 18th, 2008
The next time the weather cooperates, you better get out on Reelfoot and take advantage of it. It's prime time for crappie and bass fishing.
Didn't go look at last year's report, but I'd have to say that the spawn is a little behind this year. Looks like the best fishing still lays ahead. Some fish have already spawned, but the water temperatures have kept the majority from doing so.
A small front came through today, but it shouldn't have a big impact on the fishing. Tomorrow's highs are supposed to be in the low to mid 60's. After that, the highs are in the 70's to 80's for the foreseeable future. That's the first extended period of warm weather this year and it should have a big impact.
Lake level remains very high, 1 1/2 to 2 feet above pool level. Water temperature is 58. Here's the rest:
Crappie - Jackie has been doing well in 6-10 feet. The fishing would probably be excellent if not for the wind, but we'll call it good for now.
They are spawning right now and are bunched up, so if you catch one you'll probably find more in the same area. Some days they'll want it slow and some days fast (or at least faster). You'll have to try different speeds to determine what mood they're in.
Both minnows and jigs are working well. Use whatever prefer. But, you might want to take a few minnows just in case.
Bass - Bass fishing is good right now. Fish are spawning around the shallow stumps. Anglers are also doing well around the mouths of ditches.
We heard about a new Strike King shallow running crankbait that is working well. It's got chartreuse on both sides and a red eye. That's about as much as I can tell you.
Catfish - They're still biting in the ditches, as the current brings food right to them. Nightcrawlers are a good bet.
Bluegill (bream)- Bluegill are moving shallow. The best fishing still lays ahead, but with the warm weather forecasted it could pick up sooner than later.
Popeye jigs tipped with waxworms are a good bet for bluegill.
Good Fishing!
Click Here
For Archived Reelfoot Lake Fishing Reports
Jackie Van Cleave is a guide for Blue Bank Resort. For more information on Jackie's guide services: Click Here
---


Phone: 731-286-NETW
828 Granger Circle
Dyersburg, TN 38024
Page designed by : The Hometown Network
All contents except Mallards on front page and David Maass
artwork are property of Reelfoot.com