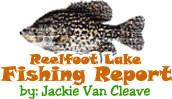 Reelfoot Lake Fishing Report for:
April 2nd, 2004
Well, it was bound to happen. Spring time weather is so unpredictable and can shut the fishing down in a hurry. That seems to have been the case this week as a cold front came through and made it tough for anglers on Reelfoot. After a few good weeks of fishing in a row, we knew the fickle spring weather was due to put a damper on things. That's just what seems to be happening right now.
There's just not much to say this week. They were catching them alright earlier in the week, but it's now officially slow from the reports we've received.
Water temperatures have dropped about 5 degrees since last weekend on the main lake and that's a big contributor to the current state of fishing.
Of course it could all change in a day. You just never know this time of year. Jackie had a good day on Wednesday, then couldn't do anything with them on Thursday. Typical spring weather.
The forecast is for a couple more cold nights and then a warming trend starting on Monday. Not great news for this weekend, but there's always hope for good fishing despite cold fronts.
We'll try and post an update early next week if the conditions change.
Crappie: Slow to fair, but still probably the best bet this time of year. As mentioned, it could change drastically from day to day, so don't stay at home just because it was bad yesterday.
Bass: Slow. They didn't take the cold front well at all.
Bluegill: Slow
No report on other species.
Click Here
For Other Reelfoot Lake Fishing Reports
Jackie Van Cleave is a guide for Blue Bank Resort. For more information on Jackie's guide services: Click Here
---
Questions and Comments:
Email the Webmaster
Here




Phone: 731-286-NETW
828 Granger Circle
Dyersburg, TN 38024
Page designed by : The Hometown Network
All contents except Mallards on front page and David Maass
artwork are property of Reelfoot.com