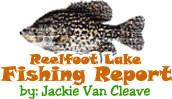 Reelfoot Lake Fishing Report for:
April 21st, 2005
Another good week for Reelfoot Lake fishing. Most species are doing well right now. There is a cold front coming through this weekend and temperatures are supposed to drop significantly. Don't really know what affect it will have on the fishing, but make sure and dress appropriately.
Lake level is about 4 inches above pool stage. Water temperature is in the 64 degree range. Here's the rest:
Crappie- Crappie fishing has been good this week. Some fish have already spawned and some are still spawning. Remember to fish a little slower while the crappie are bedding up. Once you hit a fish or two, just slow down and you'll probably pick up some more.
Anglers have done well in the shallow water on both jigs and minnows.
Bass - Good. They're spawning also and anglers are bringing in a mixed bag of males and females at this time.
Same old baits should work well. Spinnerbaits, tubes, shallow running crankbaits, worms, etc.
Bluegill - The bluegill fishing is still good and will probably continue for the next couple of months, or longer. Cold fronts and weather changes might slow them down for a day or two, but their prime time is just beginning.
Popeye style jigs tipped with waxworms should work well. Good areas to try include Allen Opening and Buzzard Slough, among many others.
Catfish - Good. Crappie fishermen are picking up some, so that usually means the catfishing is doing well. The current in the ditches has slowed a bit, so they're not quite as productive. Try hitting around the trees, points and showing logs.
Nightcrawlers and chicken livers have been the top baits.
Yellow Bass - No Reports
Good Fishin Folks!
Click Here
For Other Reelfoot Lake Fishing Reports
Jackie Van Cleave is a guide for Blue Bank Resort. For more information on Jackie's guide services: Click Here
---
Questions and Comments:
Email the Webmaster
Here




Phone: 731-286-NETW
828 Granger Circle
Dyersburg, TN 38024
Page designed by : The Hometown Network
All contents except Mallards on front page and David Maass
artwork are property of Reelfoot.com