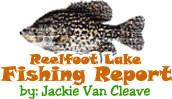 Reelfoot Lake Fishing Report for:
April 21st, 2006
It's been a good week on Reelfoot Lake. Crappie are doing excellent. Bass, catfish and bluegill are not far behind. Winds haven't been bad, temperatures are ideal. What's not to like?
Water temperature is now at 72 degrees. Lake level is maybe an inch above pool level. Here's the rest:
Crappie - Jackie said it doesn't get much better for crappie fishing that it is right now. Weather is supposed to hold rather steady, so maybe it will continue.
In his own words, "If you can't catch em now you need to hire me, because you need a guide".
He's been having excellent results trolling minnows around underwater stumps in 6-10 feet of water.
It's also a good time for hitting the shorelines and grasslines for bedding fish.
Anglers are also doing well casting road runners and beetle spins on the north end out from the air park. So, casting, trolling or bobber fishing, you should be able to catch a few.
Largemouth -Picked back up this week since the rain hit and would be considered good.
He recommends trying worms, lizards or jig/pig combos around the deeper trees in 4-6 feet of water. The trees out from Kirby Pocket are a good place to try.
Bluegill - Not great yet, but good. You might try straight waxworms on a #6 or #8 long shank hook. Use a slip bobber and bb shot to complete the rig.
One note: We always mention a slip bobber because they are very easy to control while casting. However, the regular bobbers work well also. Sometimes even better than the slip bobbers because they will swing the bait by the fish instead of dropping it straight down like the slip bobber.
It's just that they require a little more control when casting around the trees to keep from constantly getting snagged. If you feel comfortable with your casting ability, give the old bubble bobbers a try. Cast just past the tree so the bait swings by the stump.
Catfish - Good. Same old baits - nightcrawlers, stinkbait, cut shad, etc. Whatever secret catfish bait you've got should work. Try 4-8 feet of water.
Good areas right now are the grasslines in Groom's Pocket and in Swan Basin. Hit them early and late for best results.
Yellow Bass - No reports.
Click Here
For Other Reelfoot Lake Fishing Reports
Jackie Van Cleave is a guide for Blue Bank Resort. For more information on Jackie's guide services: Click Here
---
Questions and Comments:
Email the Webmaster
Here




Phone: 731-286-NETW
828 Granger Circle
Dyersburg, TN 38024
Page designed by : The Hometown Network
All contents except Mallards on front page and David Maass
artwork are property of Reelfoot.com