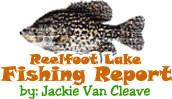 Reelfoot Lake Fishing Report for:
April 23rd, 2004
Last week it was snow. Since then it's been windy, rainy, stormy or a combination thereof.
The weather has been terrible to say the least. Wind gusts have been in the 20-30 mph range almost every day with no end in sight. Can't even remember the last calm day. Been at least a week, maybe two.
Crappie and Bass are spawning. Bluegill have turned on. It's time to catch em, but mother nature has dealt anglers a tough hand. Wish I could say the forecast is looking better, but they're predicting strong winds and a chance of thunderstorms through the weekend.
This week's report is kind of sketchy, since many anglers have stayed on the bank this week.. But suffice to say that it's "should be" prime time for Reelfoot fishing.
Water temps were 69 on Wednesday. Lake level is rising and could end up 4-6 inches above pool after all the rain we've had. Here's the rest:
Crappie: Jackie has been bringing in 30-40 keepers on the days he's been, but hasn't tried it for the last two days due to storms. Should be a great time for them if the weather will let you out there.
Anglers have found a little relief from the wind by jigging the shorelines and they've had good results. Colors that have been working well include black/chartreuse, pink/chartreuse and blue/white. Minnows should also work well.
They can be caught in a variety of depths from 2-10 feet
Bass: Bass have been biting well from the few reports we've had. Some have already spawned and some are on the beds right now.
Lures to try include spinnerbaits in white or chartreuse, tube jigs in pumpkin/chartreuse (both weighted and weightless work) and topwater baits such as a devil's horse. Work the devil's horse slow.
Bluegill: Bluegill fishing has really picked up. Their spawn is a few weeks away, but anglers are doing well with them right now. Popeye jigs tipped with waxworms are still the top bait. Few weeks away from prime cricket fishing time.
Catfish: Folks have been bringing in a few catfish while fishing from the bank and piers. Nightcrawlers and stinkbait are the top baits.
Click Here
For Other Reelfoot Lake Fishing Reports
Jackie Van Cleave is a guide for Blue Bank Resort. For more information on Jackie's guide services: Click Here
---
Questions and Comments:
Email the Webmaster
Here




Phone: 731-286-NETW
828 Granger Circle
Dyersburg, TN 38024
Page designed by : The Hometown Network
All contents except Mallards on front page and David Maass
artwork are property of Reelfoot.com