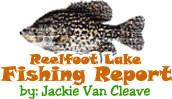 Reelfoot Lake Fishing Report
April 25, 2015

LOW TEMPS CHALLENGE ANGLERS…BETTER DAYS AHEAD

Jackie Wayne's Back with another fishing report on Reelfoot Lake...it don't look good due to bad weather.
Lake level is still about a foot above pool. Surface temp is in mid 60's...from the cold, gusty winds, below average temperatures and rain.
The spawn has stop due to the cool weather...warm weather is on it's way so hang on it's going to get better.
Some crappie are being caught in 6 to 8 feet of water on jigs tip with minnows. Crappie rigs are also doing good with minnows 12 to15 feet deep...lower blue basin is the place to be.
Bass seem to be slow what's being caught are around trees 3 to 5 feet deep on jigs black and blue.
Blue gill are biting the best of all around pads on jigs tip with wax worms 3 to 5 feet deep.
Catfish are slow...no report.
Well folks the weather has got to get better sooner or later...just be glad you got your health and able to go fishing...be safe have fun and take a kid with you.
Jackie Wayne gone fishing thank you God bless .


For fishing guide give me a call....

731-431-9700
Jackie Wayne


Click Here
For Archived Reelfoot Lake Fishing Reports
For more information on Jackie's guide services: Click Here
---

Page designed by : Reelfoot.com
All contents except Mallards on front page and David Maass
artwork are property of Reelfoot.com