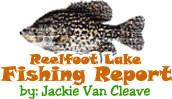 Reelfoot Lake Fishing Report for:
April 27th, 2007
It's starting to sound like a broken record from the fishing scene. High winds continue to dominate the fishing. They have been a little better in the last few days and we're hearing predictions of calmer winds in the immediate future. Still, it's been tough for people to get exactly where they want to.
The crappie (and others) are returning to the shallow water areas they were in a few weeks ago, before all the cold weather hit.
As of the end of March it looked like the spawn was coming early this year. The water warmed up very quickly this year, even so quickly that the fish couldn't catch up their biological clocks with the ideal temperatures. You see, just because the water temperatures are ideal, there is still a time table that the fish are on. If it warms too early in the spring, the fish just aren't ready.
The spawn was about to hit when the cold weather came in and dropped the water temperature 15-20 degrees. It's just now getting back to where it was and the major spawning activity is at hand once again.
Now instead of an early spawn we're looking at a late spawn. Look for some major improvements this week, it's actually starting already.
Water temperature is 66 degrees. Lake level is 2-3 inches above pool level. Here's the rest:
Crappie - Crappie fishing is good right now. They are not bedding in large numbers as of yesterday, but look for that to change very soon. There are also a lot of fish moving shallow right now. That's good news when the wind is blowing. You can still get to them come wind or not.
Depths of 6-8 feet have been producing some nice stringers this week. Look for even shallower depths to produce more and more each day. Minnows are the top bait.
Bass - Slow. Not much change here. We don't actually have many reports on them, so it could be better than we're reporting. Look for them to pick back up very soon.
Bluegill - Right now it would be considered good. Jackie brought in 60 nice ones Wednesday fishing the shorelines with popeye jigs tipped with waxworms. He was just jigging vertically (no float) using a bb shot about 6 " above the jig.
Catfish - Good. They're catching a lot of catfish while fishing for crappie. That usually means that they are doing well. If you went after catfish, you should catch a mess.
Just find a spot out from the bank a ways (100 yds or so) that's out of the wind and about 3-6 feet deep. Give it a try for 30 minutes or so and then move on. You're really liable to catch them about anywhere right now.
Reelfoot has some great catfishing and once you get the hang of it you'll really enjoy it.
Click Here
For Other Reelfoot Lake Fishing Reports
Jackie Van Cleave is a guide for Blue Bank Resort. For more information on Jackie's guide services: Click Here
---
Questions and Comments:
Email the Webmaster
Here




Phone: 731-286-NETW
828 Granger Circle
Dyersburg, TN 38024
Page designed by : The Hometown Network
All contents except Mallards on front page and David Maass
artwork are property of Reelfoot.com