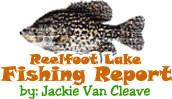 Reelfoot Lake Fishing Report for:
April 28th, 2006
Good fishing conditions continued this week, even after the cold front Wednesday night. Crappie fishing has been excellent, bluegill and catfish are good. Bass are fair.
Temperatures are supposed to remain steady for the next 4-5 days, so good fishing should continue. Only problem is, there's a good chance of storms this weekend. Maybe they'll hit at night and let us enjoy the end of April.
Lake level is right at pool level. Water temperature has fallen just a bit to 70 degrees. Here's the rest:
Crappie - Still in excellent shape. Probably towards the end of the peak fishing, so could drop off a little soon. Jackie brought in 70 keepers out of 100+ caught on Thursday. That was the day after the cold front hit. Doesn't look like the front had too much of an affect.
Minnows in 6-8 feet of water have been producing some nice catches. Anglers jigging around the shorelines have done well also.
Largemouth - Fair. Bass have been suffering from a lot of fishing pressure lately, with the bass tournaments and such. Try to get out there early before your spot sees the other guy's bait. Late in the day should work well also.
Bluegill - Good. Scattered trees and around the pads in 1 1/2 to 4 feet of water are good areas. They haven't started the full blown spawn yet, but should very soon.
Jigs tipped with waxworms and crickets are both producing.
Catfish - Good to excellent. Same old baits. Just use your favorite. Try 6 feet of water or shallower around the trees and mouths of ditches. Once you pick up a few just stick with them.
Yellow Bass - No reports.
Click Here
For Other Reelfoot Lake Fishing Reports
Jackie Van Cleave is a guide for Blue Bank Resort. For more information on Jackie's guide services: Click Here
---
Questions and Comments:
Email the Webmaster
Here




Phone: 731-286-NETW
828 Granger Circle
Dyersburg, TN 38024
Page designed by : The Hometown Network
All contents except Mallards on front page and David Maass
artwork are property of Reelfoot.com