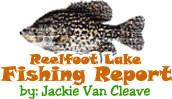 Reelfoot Lake Fishing Report for:
April 30th, 2004
It's starting to sound like a broken record, but the wind just keeps on blowing and blowing. Hasn't helped fishing one bit.
The crappie fishing is still good. The bluegill fishing is getting better and better. Catfishing has picked up also.
Lake level has now risen to almost a foot above pool level due to recent rains. Water temps are at 69-71 on the main lake and probably around 74 in the shallows. Here's the rest:
Crappie: Crappie fishing is good. They're being caught in water that's anywhere from 3-10 feet deep. Jackie recommends trying the deeper of this range first if the wind will allow it, then work your way shallower til you find em. If you can't hit the deeper water at all, then try jigging around the trees. They're still bringing in some fish there too.
One note on shallow water fishing (both for crappie and bluegill): Anglers often pay little attention to the stealth needed when fishing shallow water. It's always best to sneak around when you're in the shallows. Banging around the boat just won't cut it in two feet of water. You'll spook every fish around.
Keep it calm and quiet while chasing them around the shallows. If you find a bed, back off a little ways and cast back to them. There's much less chance of spooking them that way.
A lot of the deeper beds have been inaccessible this month due to the constant winds. That didn't help the anglers. The good news is that it should provide even better fishing in the years ahead.
It looks like a lot of them have already spawned, but the main spawn still probably has a week or two left.
Minnows are the top bait, but as mentioned jigs are producing some around the trees also.
Bass: Bass fishing has been slow. They're even farther ahead in their spawn than the crappie and are entering post-spawn. You might have your best luck out from the bank a little (3 foot deep or deeper). There could be some late spawners still holding out there.
Bluegill: Bluegill fishing is getting better and better. 50-100 a day is common. Popeye jigs with waxworms are still producing and crickets are starting to see some good action also.
Just about anywhere around the bank could produce some fish.
Thursday they didn't seem to bite til later in the day. Of course that could change from day to day. Mornings "might" be the best bet, but you've got to stick with it to be there when they turn on. Even when they're "turned off" you should still catch a mess.
Catfish: Catfishing is good. Try the ditches, as the current is flowing through them and should continue to do so over the next few days.
Nightcrawlers or stinkbait should produce.
Click Here
For Other Reelfoot Lake Fishing Reports
Jackie Van Cleave is a guide for Blue Bank Resort. For more information on Jackie's guide services: Click Here
---
Questions and Comments:
Email the Webmaster
Here




Phone: 731-286-NETW
828 Granger Circle
Dyersburg, TN 38024
Page designed by : The Hometown Network
All contents except Mallards on front page and David Maass
artwork are property of Reelfoot.com