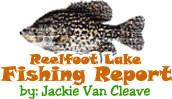 Reelfoot Lake Fishing Report for:
April 6th, 2007
The dreaded spring cold front has arrived and to top it off the winds have been horrible. Wish we could give some good news, but it's hard to do with these conditions.
The cold fronts are always a big factor in fishing. This time the winds are an even bigger factor. Winds today should be gusting to 30 mph. It's been like that all week. To say the cold front shut the fishing down is a tough call because it's been too windy for most anglers to get out there.
If you can catch the winds laying down get out there. :You should catch a few, maybe more. Beyond that, there's not a lot to say this week. Lake level is at pool level. Water temperature was at 70 on Tuesday, but likely to be in the lower 60's by now. Here's the rest:
Crappie - Slow. As mentioned, the high winds have kept anglers off the lake. So, it's anybody's guess what's happening out there with the little bit of information we have to go on.
Up through Tuesday there were some good catches and that was the day after the cold front hit. Crappie fishing might still be in ok shape if you can find a spot to get out of the wind.
The forecast is showing 5-10 mph winds on Sunday, so that could be the day to try it. Warm temperatures will be back early next week. When this next warm spell hits we should see some major spawning action in a hurry.
Try depths of 10 feet and shallower. Minnows are a good bait and fish slowly.
Bass -No reports.
Bluegill - No reports.
Catfish - No reports.
Click Here
For Other Reelfoot Lake Fishing Reports
Jackie Van Cleave is a guide for Blue Bank Resort. For more information on Jackie's guide services: Click Here
---
Questions and Comments:
Email the Webmaster
Here




Phone: 731-286-NETW
828 Granger Circle
Dyersburg, TN 38024
Page designed by : The Hometown Network
All contents except Mallards on front page and David Maass
artwork are property of Reelfoot.com