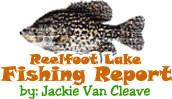 Reelfoot Lake Fishing Report for:
April 7th, 2006
Fishing is good to excellent for most species right now. Jackie said, "You need to get down in the bottom of the boat just to bait your hook". Maybe a slight exaggeration. You can probably bait your hook standing up.
Anyhow, the fishing is good. But, (there's always a but) the wind has been bad the last couple of days. Jackie's chasing bluegill today because it's too windy to get on his crappie spots. If these storms predicted today will pass through maybe you folks can get out there and enjoy some good fishing.
Lake level is about 4 inches above pool level. Water temperature is at 69 degrees. Perfect spawning temperature for crappie and bass. Here's the rest:
Crappie - Had been excellent until the wind picked up yesterday. Some folks are still catching fish. It's just a lot harder to find a good spot with such a limited area to fish.
Jackie had a boat full of fishermen on Saturday and caught a boat full of fish, about 300. That's an amazing catch by any standards.
He recommends depths of 5 1/2 to 9 feet. Minnows are the top bait, but jigs should work well also. Jig colors include blue/white, red/white, black/chartreuse and others. Use a few of your favorites until you find one that's working for you.
Largemouth - Good. Jerkbaits and Devil's Horse type baits should work really well right now. Try twitching those around the thick timber in shallow water.
Bluegill - Good. Popeye jigs tipped with waxworms are working really well. While we were on the phone with Jackie getting the fishing report, he probably brought in 5 or more.
You might want to give it a try while you're waiting on the winds to subside.
Catfish - Good. Try 4-5 feet of water with nightcrawlers or stinkbait.
Yellow Bass - No reports.
Click Here
For Other Reelfoot Lake Fishing Reports
Jackie Van Cleave is a guide for Blue Bank Resort. For more information on Jackie's guide services: Click Here
---
Questions and Comments:
Email the Webmaster
Here




Phone: 731-286-NETW
828 Granger Circle
Dyersburg, TN 38024
Page designed by : The Hometown Network
All contents except Mallards on front page and David Maass
artwork are property of Reelfoot.com