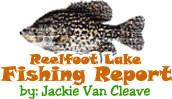 Reelfoot Lake Fishing Report for:
April 8th, 2005
Good old spring weather. Wind, rain, lightning, tornado watches, we've had it all in the last week. Hurricanes might be next. Water temps are just getting right for crappie spawning and mother nature throws them for a loop.
Of course, there's always a bright side to things. The weatherman is predicting some nice weather this weekend. No rain predicted and they're even saying the wind won't be bad. Don't count on that last one, but it's still nice to hear.
Lake level is high. It's about 8-10 inches above pool level. Lots of water moving through the ditches right now. Water temps are 61 degrees on the main lake. Might be 65 or more in the shallows. Here's the rest:
Crappie-Crappie reports haven't been too good this week, at least for the last three days. Still would be considered fair, but fair just isn't good enough for the first week of April.
The weather and rising water have got them a little mixed up it seems. Jackie brought in 40 keepers on Thursday. That would be a great day for me, but a little below what he usually brings in this time of year.
Shallow water anglers have had some success this week catching a mixed bag of crappie and bluegill while jigging the shorelines. Popeye jigs (1/16th or 1/32nd oz) tipped with waxworms have been producing. Regular lead heads will work also. Color combos include: blue/white, black/chartreuse and red/white.
Look for the crappie to pick back up in a hurry. The water temperatures are ideal, so get out there if you can, no matter what the day before produced.
Bass - Would still be considered good. Spinnerbaits, topwaters, jerkbaits, shad color crankbaits and jig/pig should be safe bets. Use what you have confidence in and what works best for the particular structure you're fishing.
Bluegill -Good. Bluegill catches have continued to improve. Lots of anglers are catching them mixed in with the crappie. But, it's almost at the point where you could focus on these scrappy little rascals.
Popeye jigs tipped with waxworms are definitely a good bait to try. Still a little early for crickets.
Catfish - All this water has put plenty of current in the ditches. As usual, that means the catfish will be there to lazily catch a meal floating by. Try the mouths first, then head up in the ditches. Stinkbait or nightcrawlers should both work.
Yellow Bass - No Reports
Good Fishin Folks!
Click Here
For Other Reelfoot Lake Fishing Reports
Jackie Van Cleave is a guide for Blue Bank Resort. For more information on Jackie's guide services: Click Here
---
Questions and Comments:
Email the Webmaster
Here




Phone: 731-286-NETW
828 Granger Circle
Dyersburg, TN 38024
Page designed by : The Hometown Network
All contents except Mallards on front page and David Maass
artwork are property of Reelfoot.com