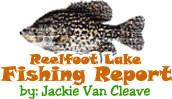 Reelfoot Lake Fishing Report for:
April 9th, 2004
Fishing has been kind of hit and miss this week. Mostly it's been good, but still inconsistent. The dogwoods are blooming and that means crappie spawning time, but it's still a little ways away.
Jackie's water temp gauge broke this week. He estimated that it's in the upper 50's on the main lake and lower 60's in the shallows. Here's the rest:
Crappie: Good one day, slow one day. There have been some good catches this week, but still kind of hit and miss.
Afternoons have been the best time lately, but you just have to put in the time to make sure you're there when they turn on. You can read more about that in...this article.
If you can find a calm day, you should be able to catch a mess to eat at least. Might even wear em out, it's just been hard to predict.
Minnows are the top bait. Jigs and even small spinners have been producing also.
Bass: Slow. They've been slow for a couple of weeks now. Look for them to turn on soon.
Bluegill: These windy days have turned some of the crappie fishermen into bluegill fishermen and they've done pretty well. Would be considered good at this point.
Try the shallow areas around the trees. Popeye jigs tipped with waxworms should work well. You can find popeye jigs available at many of the local stores and resorts. They're feather jigs and they're good ones.
No report on other species.
Click Here
For Other Reelfoot Lake Fishing Reports
Jackie Van Cleave is a guide for Blue Bank Resort. For more information on Jackie's guide services: Click Here
---
Questions and Comments:
Email the Webmaster
Here




Phone: 731-286-NETW
828 Granger Circle
Dyersburg, TN 38024
Page designed by : The Hometown Network
All contents except Mallards on front page and David Maass
artwork are property of Reelfoot.com