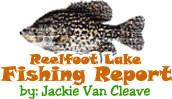 Reelfoot Lake Fishing Report
May 11 2016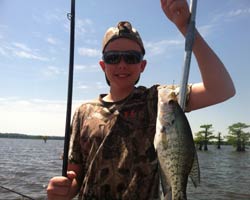 WARM WEATHER HEATS UP THE FISHING SCENE

Jackie Wayne's Back...it's time for another fishing report for Reelfoot Lake.
It's been a good week...the warm up is music to the ears of bluegill and crappie fishermen.
Water temp is in the mid 70s...Lake level is 8 in above
pool level.
Well the crappie bite is still good, but you've got to hunt for them...shore line, around trees, and grass line...6 two
8 feet deep and y'all find them...their there.
Bass are still spawning in 3 to 6 feet of water...their biting jig and pig, top water baits, worms, and spinner baits around the trees and stumps.
Bluegill are going on bed in 3 two 5 feet of water...use wax worms, crickets, or jigs. Bluegill fisherman like to target full moon phases as peak spawning phases can occur at that time.

Catfish are biting good in the ditches and on yo-yo's around the trees.
Fishing is good don 't try to catch all of them...save some for the next time, remember to take a kid...
Till next time God Bless and have fun!
Thanks Jackie Wayne!
.
For fishing guide give me a call....

731-431-9700
Jackie Wayne


Click Here
For Archived Reelfoot Lake Fishing Reports
For more information on Jackie's guide services: Click Here
---

Page designed by : Reelfoot.com
All contents except Mallards on front page and David Maass
artwork are property of Reelfoot.com