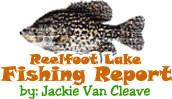 Reelfoot Lake Fishing Report for:
May 13th, 2005
We have had some really warm weather this week. Water temperatures are on the rise and are now at 74 degrees out on the main lake. Most species are doing well, but crappie are slowing down. Lake level is about 3 inches above pool stage. Here's the rest:
Crappie-Slow to Fair. Looks like we're nearing the post spawn blues for the crappie. There are still a few spawning, but it's over for the most part. That means tough fishing for the next few weeks.
Bass -Good. There have been some nice bass catches this week. A recent tournament saw a winning stringer of over 22 pounds for a five bass limit, with numerous catches falling in the 20+ category. Plenty of 5-6 pounders were being brought in.
Fish are being caught on a wide variety of baits including spinnerbaits, jig/pig, stickbaits, buzzbaits and many others. Just use what you have confidence in and you'll probably bag a few.
Bluegill -Excellent. This warm weather is just what the bluegill like. They are really biting well right now. Anglers have been doing exceptionally well in and around the bonnet patches. Popeye style jigs tipped with waxworms are working well.
One note on the popeye jigs: Popeye is not actually a name brand, but more of a style. They've got a large protruding eye that gives them the name. Nothing fancy, just a little different design than some. They are available at various locations around the lake.
Catfish - Excellent. Another species that really likes the warmer weather. They have really turned on and can be caught in a variety of places. Showing logs, trees, bonnets, lily pads and just about anywhere else might produce some catfish right now.
One of the hot baits lately has been Strike King's Dynamite "Links", or something like that. Not sure on the spelling, but it has worked well this week. Nightcrawlers are also a good bait.
Yellow Bass - No Reports
Good Fishin Folks!
Click Here
For Other Reelfoot Lake Fishing Reports
Jackie Van Cleave is a guide for Blue Bank Resort. For more information on Jackie's guide services: Click Here
---
Questions and Comments:
Email the Webmaster
Here




Phone: 731-286-NETW
828 Granger Circle
Dyersburg, TN 38024
Page designed by : The Hometown Network
All contents except Mallards on front page and David Maass
artwork are property of Reelfoot.com