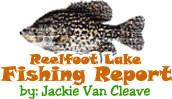 Reelfoot Lake Fishing Report for:
May 18, 2014

JACK'S BACK!!! It's been a tough spring fishing this year. The weather has been as bad as I've ever seen. It looks like it's finally going to let go. We've been through a tough time so enjoy it finally.
Water level is above pool. Water temp is in the low 60's high in the 70's.
Well, the spawn is on and crappie are doing good. To find them you need to slow down and fish with your poles in 5 to10 feet of water.
Their biting jigs and minnows or both. The white crappie are bunched up at this time so be on your toes and focus on what your doing.

Lower blue basin is good , so is upper blue basin.
"THE BIT IS ON"

There is running water in the ditches so cat fish will be good there, fish with night crawlers.

Blue gill are doing great this year. They are starting to spawn in shallow water. The bit is on jigs tip with wax worms in the morning, crickets later in the day.

Well, this is what you been waiting on so get your boat ready to go. Bass are also good on shore lines. Their biting on spinner baits 1/4 oz. white / chartreuse.

Yellow bass are biting on pin minnows in lower blue basin in 3 to 5 feet of water.

Be safe and have fun..."Go Fishing"

Thanks Jackie Wayne
If you need me call 731-431-9700


Click Here
For Archived Reelfoot Lake Fishing Reports
For more information on Jackie's guide services: Click Here
---

Page designed by : Reelfoot.com
All contents except Mallards on front page and David Maass
artwork are property of Reelfoot.com