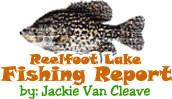 Reelfoot Lake Fishing Report for:
May 19th, 2006
Good fishing overall this week on Reelfoot. The wind is still playing a big part, but the daily storms have subsided for now.
So far the timing has been a little different this spring. Crappie fishing's big run lasted much later than usual and now bluegill fishing is running later than usual. Actually, the best bluegill fishing is probably yet to come.
The cooler than usual temperatures combined with the abundance of rain, which also cooled the lake down, have kept water temperatures pretty stable and pretty cool. It's lead to some good conditions and some good fishing this spring for the most part.
The water temperature right now is 68 degrees and the lake level has dropped down to just an inch or two above pool level. Here's the rest:
Crappie- Still good. As mentioned, it has been a good run and a long run. However, it's probably going to slow down soon. Those post spawn blues should be nearing. But...maybe not. You never know with fish and I'm not going to try and predict too much.
Jigs aren't doing so well right now. Try minnows in 6-10 feet of water.
One other thing. The best bite has been mid-day lately (10:00-1:00). Don't know why. It's been the same for other species as well, like catfish and bluegill.
Bass- Good. Spinnerbaits are working well right now. Actually they're probably the top bait on Reelfoot for most of the year, it's just that they're producing even better than usual lately.
Jackie likes a 1/4 oz. spinnerbait with double colorado blades in white/chartreuse.
Early in the day has been good for the bass. About 7:00-11:00 a.m.
Bluegill-Good. It appears the the main spawn is still ahead, so it should get better and better in the weeks ahead. Popeye jigs tipped with waxworms are working well. Crickets are working better also.
Just try casting in the shallows with a slip bobber rig.
Catfish- Fair to good. Depths of 3-6 feet are good bets. Both stinkbait and nightcrawlers should both work. Jackie likes nightcrawlers.
Stripes (Yellowbass)- No reports.
Click Here
For Other Reelfoot Lake Fishing Reports
Jackie Van Cleave is a guide for Blue Bank Resort. For more information on Jackie's guide services: Click Here
---
Questions and Comments:
Email the Webmaster
Here




Phone: 731-286-NETW
828 Granger Circle
Dyersburg, TN 38024
Page designed by : The Hometown Network
All contents except Mallards on front page and David Maass
artwork are property of Reelfoot.com