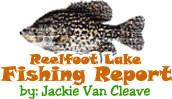 Reelfoot Lake Fishing Report for:
May 19th, 2007
We had some great fishing up until the cold front hit on Monday. The winds blew and it slowed down for a few days. Now it's back on again, with bluegill, catfish, crappie and bass all biting.
Bluegill action is great right now and with steady temperatures predicted for the near future it should stay that way for a while. Not only are these fish tasty, but they provide one of the best fights you'll find in a panfish. Get your kids, or someone else's kids, and get after them. It's a guaranteed good time.
Water temperature is at 74 degrees, down a few degrees. Lake level is 3-4 inches above pool level. Here's the rest:
Crappie - Right now it would be considered good. There are still some bedding crappie around the shorelines, as well as in the mid depths. Casting with minnows or jigs should produce some around the shoreline, but this method (or depth) might not produce much longer. After that, head to the mid depths.
Bass - Good. A lot have spawned out, but you can still catch some of the bigger spawning fish on deep stumps. Spinnerbaits, worms and jig/pig combos should work well for these areas. Use the one you've got confidence in.
Bluegill - Excellent. Jackie went out today and brought in a cooler full from only two bedding areas. That is some action. You can fish popeye jigs tipped with waxworms or crickets fished with a slip bobber and a bb shot. Either method should work.
If you're fishing a spot and not catching bluegill right now then keep moving. You should know it when you are in em.
Catfish - Excellent. Jackie continues to pick up a lot of catfish while bluegill and crappie fishing. That means that they are really biting. Top bait right now is nightcrawlers.
There are also some new nightcrawlers around the Reelfoot area that are green or chartreuse or something like that. I haven't actually seen these things and don't even know where you can get them. But, with a little asking around I'm sure you can find out. Just something new to try. Us fishermen are always looking for the next secret bait. Maybe this is it.
Good Fishing!
Click Here
For Other Reelfoot Lake Fishing Reports
Jackie Van Cleave is a guide for Blue Bank Resort. For more information on Jackie's guide services: Click Here
---
Questions and Comments:
Email the Webmaster
Here




Phone: 731-286-NETW
828 Granger Circle
Dyersburg, TN 38024
Page designed by : The Hometown Network
All contents except Mallards on front page and David Maass
artwork are property of Reelfoot.com