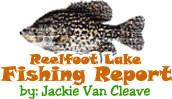 Reelfoot Lake Fishing Report for:
May 20th, 2005
Still some good fishing on Reelfoot for most species. The crappie have slowed, but still not too bad for this time of year. Bluegill are the most popular fish right now and justifiably so. It's their favorite time of year, or should I say it's the bluegill fisherman's favorite time of year. Catfish are doing well also.
Lake level continues to fall and is about pool level right now. Water temps were at 72 degrees Tuesday, haven't gotten a temp since then. Here's the rest:
Crappie-Can actually call it fair. They aren't biting like crazy, but you can still catch a good mess to eat. Minnows are the preferred bait.
They're very scattered. You might find some in 3 feet of water and you might find some in 15 feet of water. Cover plenty of water for best results.
Bass -Fair to Good right now. Jackie really likes to hit the water at daybreak this time of year with a buzzbait. If it's cloudy, the topwater action could even last all day. If it's sunny, once the sun comes up you should probably head for a little deeper water.
They haven't been catching as many big ones in the last week or so. Guess they're suffering from the post-spawn blues also.
Bluegill -Remains Excellent. They're still biting well. The only real change is that fishermen have been doing much better with crickets this week.
That's usually the way it works. About this time of year crickets often start to out-produce jigs. Crickets will probably be the preferred bait for many Reelfoot anglers for the rest of the season.
Catfish -Good. Anglers have been doing well tightlining worms or stinkbait on the bottom.
Here's what you do: Tie on a three way swivel. Have one end going out to a 1/4 oz. bell sinker (drop the sinker down about 6 inches or so). On the other end of the swivel tie a short leader (4 inches or so) with a circle hook on the end of it.
Jackie likes to use 20 lb. test for the line on his catfishing reels and 10-12 lb. test for the leader. That way you can break the leader off without ruining the whole rig if need be.
Yellow Bass - No Reports
Good Fishin Folks!
Click Here
For Other Reelfoot Lake Fishing Reports
Jackie Van Cleave is a guide for Blue Bank Resort. For more information on Jackie's guide services: Click Here
---
Questions and Comments:
Email the Webmaster
Here




Phone: 731-286-NETW
828 Granger Circle
Dyersburg, TN 38024
Page designed by : The Hometown Network
All contents except Mallards on front page and David Maass
artwork are property of Reelfoot.com