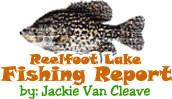 Reelfoot Lake Fishing Report for:
May 2nd, 2005
Sorry folks, but I had to go out of town last week. Seems like I picked a good week to do so. Jackie said it's been some tough fishing for the most part. Unseasonably cold weather has dropped the water temperatures and sent the fishing into a tailspin. Oh yeah....forgot about the gale force winds that have accompanied the cold weather.
Anyhow, it's not good, no sirree it's not good at all. Crappie really slowed down, so did the bass and catfish. Only fish doing much lately are bluegill. They're still biting pretty well and are accessible even on these windy days.
Lake level is 6+ inches above pool level. Water temp is 56 degrees on the main lake. That's down about 8 degrees since the last report. Not good for spring time fishing. Another cold night predicted for tonight. Here's the rest:
Crappie- Slow. Wind and cold weather have put the hurt on them. Add in the post spawn conditions and it's just plain tough.
If they do commence to biting again, try 8 feet of water or less. Minnows would be the preferred bait of most.
Bass - Slow. Bass never take cold fronts well and this time has been no exception. If you're going after them, FISH SLOW!, at least until the weather warms up and stabilizes a little.
Bluegill - The one fish that's providing some action right now. They're scattered, but they're biting. Try covering some water for best results. Hit all kinds of different structure, because they could be around any of it. If you pick up one or two, stop and fish the area for a bit. But, once they stop biting don't hesitate to move on to greener pastures.
Best thing is, the bluegill are in the shallow water as always this time of year. So, at least you can get to them on these windy days.
Popeye jigs tipped with waxworms are working well. Most folks fish them under a slip bobber. Good colors are red/white and black/white.
Anglers are starting to bring in some bluegill on crickets also.
Catfish - Slow.
Yellow Bass - No Reports
Good Fishin Folks!
Click Here
For Other Reelfoot Lake Fishing Reports
Jackie Van Cleave is a guide for Blue Bank Resort. For more information on Jackie's guide services: Click Here
---
Questions and Comments:
Email the Webmaster
Here




Phone: 731-286-NETW
828 Granger Circle
Dyersburg, TN 38024
Page designed by : The Hometown Network
All contents except Mallards on front page and David Maass
artwork are property of Reelfoot.com