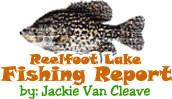 Reelfoot Lake Fishing Report for:
May 21st, 2004
This week's fishing report is provided by one of Jackie's fellow guides, Billy Blakely of Blue Bank Resort.
Bluegill fishing is great right now and with the steady weather expected over the next few days it should stay that way. Catfish are still biting well. Crappie and Bass are fair.
Water temp on the main lake is at 73.4. Lake level is about 6 inches above pool. Here's the rest.
Crappie: Crappie fishing remains fair this week. Anglers have had some luck jigging around the trees lately. Blue and white has been a good color.
Bass: Also just fair right now. Spinnerbaits in white or chartreuse fished around the lily pads are always a safe bet. Look for pin minnows to be breaking the surface. You should find the bass near by.
Bluegill: Bluegill fishing remains the top draw right now and would be considered excellent. They are still bedded up and provide some fast action once you get on a good bed.
Crickets are the top bait. Billy uses a slip bobber, a #5 split shot and a #6 hook when fishing crickets. Just set the slip bobber so that it keeps the cricket a couple of inches off the bottom.
Catfish: Catfishing is still good. Catches of 25-30 have been common with catches of 50+ here and there.
The mouths of the ditches are a great place to start while the current is flowing through, such as it is now. The down current side is often preferred. Some top ditches include Nation's Ditch and Horse Island Ditch.
Billy's bait of choice is Strike King's "Dynamite" stinkbait fished on a dippin worm.
Stripes (yellow bass) - no reports.
Click Here
For Other Reelfoot Lake Fishing Reports
Jackie Van Cleave is a guide for Blue Bank Resort. For more information on Jackie's guide services: Click Here
---
Questions and Comments:
Email the Webmaster
Here




Phone: 731-286-NETW
828 Granger Circle
Dyersburg, TN 38024
Page designed by : The Hometown Network
All contents except Mallards on front page and David Maass
artwork are property of Reelfoot.com