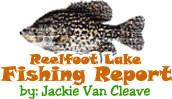 Reelfoot Lake Fishing Report for:
May 24th, 2008
The bluegill are leading the way as crappie taper off. Bass and catfish are also doing well.
The water level has dropped down around pool level and the stumps are more of a factor, so go slow.
Water temperature is at 74. Here's the rest:
Crappie - The crappie are slowing down as post spawn sets in. Look for this to last a week or two before it picks back up. Fishing is fair right now and they are in a wide range of depths (5-14 feet). Minnows are the top bait for post spawn.
You should still be able to catch a mess to eat, it's just not the best time of year right now.
Bass - Bass fishing has picked back up and would be considered good lately. Spinnerbaits in chartreuse and white work well. Jerkbaits fished around the stumps are also producing. Try shad color on the sunny days and blue/chrome on cloudy days.
As the weather warms up, the early and late part of the day tend to be the best times for bass.
Bluegill - Bluegill fishing is good and bordering on excellent. Look for at least a few good weeks ahead for them, probably longer.
Crickets are working well, as are popeye jigs tipped with waxworms. 3-5 foot depths are really producing well.
Catfish - Catfishing is good in 3-8 feet of water right now. One new secret bait is the chartreuse night crawler. They are available at Walden's grocery in Samburg. You can either tightline them or fish them under a float (keep them 2-3 inches above the bottom when float fishing).
Stripes (Yellow Bass) - No reports.
Good Fishing to All!
Click Here
For Archived Reelfoot Lake Fishing Reports
Jackie Van Cleave is a guide for Blue Bank Resort. For more information on Jackie's guide services: Click Here
---


Phone: 731-286-NETW
828 Granger Circle
Dyersburg, TN 38024
Page designed by : The Hometown Network
All contents except Mallards on front page and David Maass
artwork are property of Reelfoot.com