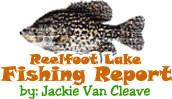 Reelfoot Lake Fishing Report for:
May 27th, 2005
Most species are still faring well on Reelfoot. Bluegill and catfish have been excellent this week. Bass has been good. Even the crappie fishing remains fair. Not too bad for this time of year.
We're seeing some stable weather and it has really helped out both fish and fishermen. Highs in the upper 70's and lows in the 50's are predicted for Memorial Day weekend, so fishing should follow the same general patterns. Chance of showers on Sunday and Monday, but just 50/50 as of now.
Lake level remains at pool level. Water temps are ranging from 78-82 depending on the area. Here's the rest:
Bluegill -Jackie described the bluegill fishing as "Smokin". Guess that about says it all.
They're on the beds. Might have to cover a little ground til you get on em. But when you do, it's well worth it. Crickets are the top bait.
Crappie-Still holding at fair. If you put in the time you can catch a mess (15-30). They are running kind of small right now.
You can either troll minnows out in the open water or try jigging around the flat top bonnets.
Bass -Good. Topwater has really been producing this week. Buzzbaits should work well. Jackie likes a 1/4-1/2 oz white buzzbait without the clicker.
Another topwater bait that he really likes is the spit-n- image. A topwater version of one of Reelfoot's other favorite lures (the swimmin image). Just work the spit-n-image really slowly and quietly. Don't get too radical with it, just twitch it along.
Another good thing to look for is a kind of quiet spot for these topwaters. You don't really want an area with a lot of commotion. Stay away from boat traffic, etc. Those are usually the best spots anyhow, whether you're catching fish or not.
Catfish -The catfishing is excellent. Any water over 3 feet deep is worth trying. One area you might want to try is the area outside of the bonnet patches. Those whiskered rascals just love cruising around the outside edges of bonnet patches.
Of course there are lots of other areas when they're biting this well. Yo-yo fishermen have been tearing them up. If you've been around the edge of the lake you know that yo-yoers fish the trees in the shallow water. Obviously that's a good area too.
We actually use the yo-yoers as a kind of catfish barometer. The yo-yoers say they're biting, so get out there and give em a try.
Yellow Bass - No Reports
Good Fishin Folks!
Click Here
For Other Reelfoot Lake Fishing Reports
Jackie Van Cleave is a guide for Blue Bank Resort. For more information on Jackie's guide services: Click Here
---
Questions and Comments:
Email the Webmaster
Here




Phone: 731-286-NETW
828 Granger Circle
Dyersburg, TN 38024
Page designed by : The Hometown Network
All contents except Mallards on front page and David Maass
artwork are property of Reelfoot.com