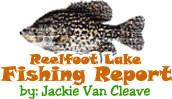 Reelfoot Lake Fishing Report for:
May 28th, 2004
Fishing this week has been just as would be expected this time of year. Bluegill and catfish are biting well, bass are starting to recover from the spawn and crappie are slow.
Lake level has finally fallen down to almost pool level, maybe a couple of inches above. Temperature on the main lake is 78 degrees. No real revelations this week, but here it is:
Crappie: Crappie seem to be suffering from post spawn and it is slow right now. If the wind will allow it try 6+ feet of water, but it's pretty slow at any depth.
Bass: Picking up a little and it could be a sign that they are recovering from their post spawn doldrums. Would be considered good from what we've heard this week. Jackie made it out recently and caught 36.
Logs, shorelines and points of the lily pads are good areas, among others. For the bigger fish try the logs and stump beds in deeper water (5 foot or more).
Jackie's favorite bait is the Strike King spinnerbait in 1/4 oz. model with double colorado blades.
Bluegill: Bluegill fishing is good and would probably be considered excellent if the wind would give anglers a break. A few females have spawned out, but they should continue spawning til July.
One point to be made: Some of the beds that are fishable in high winds have been hit pretty hard. That has made it a little more challenging to find "good beds". Try some of the areas off the beaten path that haven't been hit so hard. Of course, if the wind lays you have a lot more options.
Catfish: Catfishing remains good and probably will for most of the summer. The current has abided for the most part, so the ditches aren't necessarily the place to be any more. Logs, holes in the bonnet patches and out about 50 feet from the bonnet patches are good spots to try. Also the scattered trees that are in 4 plus feet of water might provide some action.
As usual, nightcrawlers and stinkbait are the top baits.
Stripes (yellow bass) - no reports.
Click Here
For Other Reelfoot Lake Fishing Reports
Jackie Van Cleave is a guide for Blue Bank Resort. For more information on Jackie's guide services: Click Here
---
Questions and Comments:
Email the Webmaster
Here




Phone: 731-286-NETW
828 Granger Circle
Dyersburg, TN 38024
Page designed by : The Hometown Network
All contents except Mallards on front page and David Maass
artwork are property of Reelfoot.com