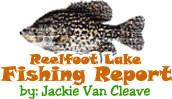 Reelfoot Lake Fishing Report for:
May 29th, 2006
It's a good time to fish on Reelfoot. Usually a few species are slowing down around this time. As of the last few days, bass, crappie, bluegill and catfish are all doing well. No matter what the species you can probably catch a mess. Get out there if you can.
Lake level has gone back up again and is around 8 inches above pool level. Water temperatures have really risen and are now around 82 degrees. Here's the rest:
Crappie- Good. Jackie was doing well today in 7-8 feet of water with minnows. This depth should be good almost anywhere on the lake.
Bass- Good. Hit the shorelines with spinnerbaits (white and/or chartreuse) and shallow running crankbaits in shad color.
Bluegill-Good. Both jigs tipped with waxworms and crickets are working well. Jigs are probably out producing crickets just a little, but you should probably take a little of both just in case.
Catfish- Excellent. If you want to catch some Reelfoot Lake catfish, now's the time. Jackie says it doesn't get any better.
Try the mouths of ditches and up in the ditches. Also around trees in 3-8 feet of water. Nightcrawlers, stinkbait and cut shad are all working well.
Stripes (Yellowbass)- No reports.
Click Here
For Other Reelfoot Lake Fishing Reports
Jackie Van Cleave is a guide for Blue Bank Resort. For more information on Jackie's guide services: Click Here
---
Questions and Comments:
Email the Webmaster
Here




Phone: 731-286-NETW
828 Granger Circle
Dyersburg, TN 38024
Page designed by : The Hometown Network
All contents except Mallards on front page and David Maass
artwork are property of Reelfoot.com