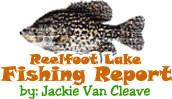 Reelfoot Lake Fishing Report for:
May 30th, 2007
There is still some good fishing to be had for Bluegill and Crappie right now. The bass and catfish have slowed this week. The best news is that the winds have slowed down. With steady temperatures and bearable winds for the next few days the fishing should be good for the near future.
The lake level is at pool level and the water temperature is at 80 degrees. Here's the rest:
Crappie - Good. The crappie are going through their second spawn right now in the shallows. While a lot of fish are spawned out, there are still plenty to be caught bedding shallow. Jackie has been bluegill fishing lately and bringing in a lot of crappie on crickets. So, if you were crappie fishing you should do well.
Try 2-4 feet of water. Jackie recommends casting a minnow with a slip bobber and a single hook. One trick when fishing like this is that you want to use a split shot just big enough to keep your bobber standing up. So, adjust your split shot to your bobber size.
Bass - Slow. Don't know if they've got the post spawn blues or not, but we're not getting good reports this week. If you are after them, there's no real trick. Hit some different types of cover until you find one that's working. Spinnerbaits, worms, tubes and about any other favorite bait you may have are good choices.
Bluegill - Excellent. Bluegill fishing is going like gangbusters. The best depths are from 2-6 feet deep. Crickets are really producing well.
Here's the setup: Slip bobber, long shank #6 hook and a #5 or #6 split shot. Use the guidelines mentioned for crappie on the weight. You want to keep your bait about 6 inches off the bottom. Adjust the slip bobber as your depth changes. Keep the split shot (weight) about 6 inches above the hook for best results.
We've got at least a month of this great Reelfoot Lake bluegill fishing left.
Catfish - Fair. Catfishing has slowed down, but that might not last long. They'll keep going through the summer, they've just hit a lull for right now. Nightcrawlers or 2-3 crickets on a hook should work well.
Good Fishing!
Click Here
For Other Reelfoot Lake Fishing Reports
Jackie Van Cleave is a guide for Blue Bank Resort. For more information on Jackie's guide services: Click Here
---
Questions and Comments:
Email the Webmaster
Here




Phone: 731-286-NETW
828 Granger Circle
Dyersburg, TN 38024
Page designed by : The Hometown Network
All contents except Mallards on front page and David Maass
artwork are property of Reelfoot.com