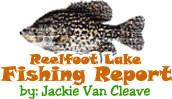 Reelfoot Lake Fishing Report for:
May 3rd, 2007
The fishing is in full swing right now and that includes almost every species. Lighter winds on these overcast days have provided great fishing conditions and the stringers are reflecting it.
The water temperature has risen dramatically and is now holding around 75. Lake level is up also. Probably about 4 inches above pool level right now. Here's the rest:
Crappie - Has been excellent lately. Jackie has been doing well in 5-8 feet of water fishing minnows. They are spawning and are on the beds right now. Find the right spots and you should catch a good mess of fish.
Bass - Good. Spinnerbaits, worms and jig/pig combos are all good baits, but use what you have confidence in. Hit any major structure you can find and focus on water 4 feet deep or shallower.
Bluegill - Excellent. They are spawning big time around the trees, bonnet patches and almost any shoreline. Shallow water in the 1 1/2 to 3 foot range is the place to focus on.
Crickets are starting to produce well, as they usually do about this time of year. Jigs, waxworms and a combo of the two should work well also.
Catfish - Excellent. They are picking up so many catfish while crappie and bluegill fishing, there's no telling how many catfish you could pick up if you were actually catfishing.
You can catch them about anywhere. You could probably just anchor off of Green Island Point and start casting.
Here's what Jackie says you need to try: Find some water about 7-9 feet deep and just drift across it fishing nightcrawlers a foot or so off the bottom. Use the slip bobbers and a small split shot above the hook. He says you'll thank him later once you give it a try.
Good Fishing!
Click Here
For Other Reelfoot Lake Fishing Reports
Jackie Van Cleave is a guide for Blue Bank Resort. For more information on Jackie's guide services: Click Here
---
Questions and Comments:
Email the Webmaster
Here




Phone: 731-286-NETW
828 Granger Circle
Dyersburg, TN 38024
Page designed by : The Hometown Network
All contents except Mallards on front page and David Maass
artwork are property of Reelfoot.com