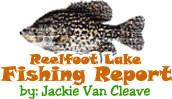 Reelfoot Lake Fishing Report for:
May 7th, 2004
Jackie's been busy fishing or sleeping this week. Such is often the case for fishing guides this time of year. Luckily we caught up with fellow guide Cody Quick at Blue Bank Resort to see what's happening.
Overall, fishing remains good. Crappie are still biting, bluegill and catfish continue to show improvement. Bass just ain't been doing too much lately. Been kind of hit and miss with the old bucketmouths.
Wind has still been a factor, but not quite as bad as in recent weeks. Water temps are in the low 70's on the main lake. Lake level is dropping a little. Still relatively high at almost a foot above pool level. Here's the rest:
Crappie: Crappie fishing is still good. Cody did well this week fishing 5-6 feet deep in 8 feet of water. Still catching some around the banks also. Minnows are the top bait when drifting the main lake. Jigs work well in the shallows.
Bass: Guess it would be called fair at this point. Best catches have been on overcast days lately. On the sunny days the clear water keeps them a little spooky.
Top baits include the usual: Spinnerbaits in chartreuse or white and a variety of topwater baits.
Bluegill: Continuing to get better. Would still just be good, but should hit full stride in the next week or two. Popeye style jigs tipped with waxworms are working well, followed closely by crickets.
Catfish: Not many folks are strictly catfishing. But, crappie and bluegill anglers are bringing in some. If they're catching em without even focusing on them, they must be biting pretty well. Would call it good at this point.
Top baits to try are nightcrawlers and stinkbait.
Click Here
For Other Reelfoot Lake Fishing Reports
Jackie Van Cleave is a guide for Blue Bank Resort. For more information on Jackie's guide services: Click Here
---
Questions and Comments:
Email the Webmaster
Here




Phone: 731-286-NETW
828 Granger Circle
Dyersburg, TN 38024
Page designed by : The Hometown Network
All contents except Mallards on front page and David Maass
artwork are property of Reelfoot.com