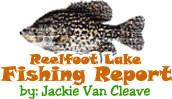 Reelfoot Lake Fishing Report for:
May 5th, 2008
The warm weather continues to bring those water temperatures up considerably. It has jumped all the way to 76 degrees.
But, the real news is the wind. The last two days have seen calm winds and a lot of fish being caught. The fish have been ready. It's just that the fishermen couldn't get out there. Friday and Saturday saw brutal winds. So, we waited a couple of extra days to report, as most anglers did not venture out on the water until Sunday. It was worth the wait as anglers saw some of the best crappie fishing of the year Sunday and today.
The lake level continues to drop and is now about 3-4 inches above pool level. Here's the rest:
Crappie - After a few bad weather days, it's back on again and would be considered excellent. Jackie took out two groups on Sunday with a total of over 200 crappie between them. Monday saw similar, if not better, results.
The wind may pick up a little tomorrow, but they "predicting" it to just be 5-10 mph for the next couple of days. Take the day off and enjoy it while you can. With the water temperatures rising so quickly, we could see post spawn conditions sooner than later.
Crappie are being caught in a very wide range of depths (anywhere from 3-12 feet). Both minnows and jigs should produce. Just so you know, Jackie is a minnow fisherman.
Bass - Bass have slowed for some unknown reason. Jackie says that could change any day, but the last 4-5 days have not seen much bass action. Right now it would be considered slow.
Bluegill - Bluegill fishing is good. Trees and shorelines are good areas, though right now the pads are the top area. We should see some good bluegill fishing for the next month or so.
Popeye jigs tipped with waxworms are working well and crickets are starting to produce also. Crickets usually work better and better as the month of may progresses.
Catfish - Catfishing is ahead of schedule and would be considered good. Depths of 3-6 feet are working well. Fish the showing logs and any underwater ones if you know where to find them. The edges of the pads are also good spots.
Nightcrawlers, shad and crickets are all working.
Stripes (Yellow Bass) - Slow.
Good Fishing to All!
Click Here
For Archived Reelfoot Lake Fishing Reports
Jackie Van Cleave is a guide for Blue Bank Resort. For more information on Jackie's guide services: Click Here
---


Phone: 731-286-NETW
828 Granger Circle
Dyersburg, TN 38024
Page designed by : The Hometown Network
All contents except Mallards on front page and David Maass
artwork are property of Reelfoot.com