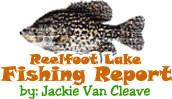 Reelfoot Lake Fishing Report for:
May 6th, 2005
It's just been 4 days since our last report, but things have changed considerably. The weather has finally started to resemble late spring. The lows in the 30's are gone for the immediate future. Actually, the next few days should be very nice weather with warm steady temperatures, partly cloudy skies and they're even predicting moderate winds. Don't hold your breath on that last one. That weather should return fishing to normal levels for the next few days at least.
The fishing has already improved for most species. Bluegill fishing is good and on the verge of hitting it's peak. Catfishing has improved. Crappie and bass have shown a little improvement also.
Lake level is about 6 inches above pool level. Didn't get a temp this week, but it should be returning to the low 60's if it hasn't already. Here's the rest, what there is of it:
Crappie- Went from slow to fair in the last few days. Still dealing with post-spawn for the most part, so fair might be all you can expect for the next week or two.
Fish should be moving out a little deeper. Depths of 6-12 feet should be a good place to start. Minnows are the top bait.
Bass - They've also went from slow to fair. Didn't get much to go on with them. They usually run a little behind the crappie, so still probably some spawning going on, though it should be towards the end also.
They will probably follow suit and some will move towards a little deeper water. However, there are always some good bass in the shallows on Reelfoot. Topwaters should be producing as the water temps continue to warm. Spinnerbaits in chartreuse/white always work well and shallow running crankbaits in shad patterns should produce also.
Bluegill - Probably the most sought after species right now and rightfully so. The bluegill fishing is good right now, should be excellent over the next few weeks.
Jigs and waxworms are the top baits. But, get ready for crickets to take over any day now as the water temps warm up.
Catfish - Catfishing has picked up considerably. Would once again be considered good. Try nightcrawlers around the showing logs, stumps and trees in 3+ feet of water.
Yellow Bass - No Reports
Good Fishin Folks!
Click Here
For Other Reelfoot Lake Fishing Reports
Jackie Van Cleave is a guide for Blue Bank Resort. For more information on Jackie's guide services: Click Here
---
Questions and Comments:
Email the Webmaster
Here




Phone: 731-286-NETW
828 Granger Circle
Dyersburg, TN 38024
Page designed by : The Hometown Network
All contents except Mallards on front page and David Maass
artwork are property of Reelfoot.com