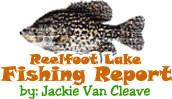 Reelfoot Lake Fishing Report
May 8, 2017
CRAPPIE AND BASS STILL SPAWNING


Jackie Wayne's...back with a fishing report ...
Water temp is still in the upper 60's....lake level is 18" above pool.
Well folks...fishing has slowed down some due to weather. Crappie are still spawning...its not over not even close. You can fine them in 3 to 8 feet of water...biting jigs tip with wax worms or minnows.

Bass...are on beds in 3 to 5 feet of water...biting on jigs, top water baits, and shallow water crank baits.
Bluegill...are still not on bed...want be long...what's being caught are in 3 to 5 feet of water on jigs tip with wax worms around pads and shore lines.

Catfish...are doing great along grass shorelines...biting on night crawlers and stink bait.
Everything is a little slow, but when the weather gets back to where it needs to be...fishing will be great...so hang on boys and girls...
God Bless to all...
Thanks Jackie Wayne!
.
For fishing or hunting guide give me a call....

731-431-9700
Jackie Wayne


Click Here
For Archived Reelfoot Lake Fishing Reports
For more information on Jackie's guide services: Click Here
---

Page designed by : Reelfoot.com
All contents except Mallards on front page and David Maass
artwork are property of Reelfoot.com