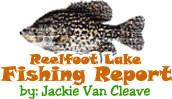 Reelfoot Lake Fishing Report for:
June 10th, 2005
Sorry we didn't get our fishing report updated last week. There have been a few changes lately in the website and a few growing pains came along with it.
Anyhow, there's still some good fishing on Reelfoot. No species is really excellent right now, but most are in pretty good shape. Look for these patterns to possibly continue for a week or two.
Lake level is now a couple of inches below pool level. Water temperature is around 82 degrees and water clarity is a little stained, very nice color for fishing on Reelfoot. Here's the rest:
Bluegill - Bluegill fishing is good right now. Crickets are the preferred bait for many anglers.
They're doing well in water from 1 1/2 to 5 feet deep. Jackie recommends fishing the grassy shorelines in 1 1/2 feet of water, especially on cloudy days. Even is it's clear it's a good place to start. Just adjust your fishing for the clear days. For example: Make longer casts, keep the sun in front of you and be just a little quieter.
Crappie-Fair. They're definitely past their peak, but some anglers are still bringing some decent catches.
Try jigging in the holes in the bonnet patches with black/chartreuse or pink/chartreuse jigs or try minnows in the deeper water (8-12 feet).
Bass - Bass fishing is good also. Shorelines are producing some nice catches on spinnerbaits, crankbaits and plastic worms. Bonnet patches are producing with buzzbaits, spoons and tubes.
Catfish -Another species that is doing well. Would be considered good this past week. Showing logs, trees and the edges of bonnet patches are good spots to try. Not much happening in the ditches with the stable lake level.
Top baits include nightcrawlers, stinkbait and shad guts. One word on shad guts: What were talking about here are the actual guts of a large, 1/2 pound and bigger, shad. They're not available in stores as far as we know, but many of the local anglers have good success with them.
Yellow Bass - There are a few of these little critters being brought in. Still slow though.
Good Fishin Folks!
Click Here
For Other Reelfoot Lake Fishing Reports
Jackie Van Cleave is a guide for Blue Bank Resort. For more information on Jackie's guide services: Click Here
---
Questions and Comments:
Email the Webmaster
Here




Phone: 731-286-NETW
828 Granger Circle
Dyersburg, TN 38024
Page designed by : The Hometown Network
All contents except Mallards on front page and David Maass
artwork are property of Reelfoot.com