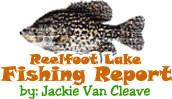 Reelfoot Lake Fishing Report for:
June 14th, 2004
The past week has provided some good fishing on Reelfoot. Bluegill are still bedding up and there have been some great catches. Catfish and bass are faring well also.
Just one problem. The lake has risen a lot due to recent rains and that could have a detrimental affect the fishing over the next couple of days.
Lake level is about 4 inches above pool after it took a nice drop last week. Water temp was 81 before the rain. Probably dropped a couple of degrees with the influx of cooler water. Here's the rest:
Bluegill: Bluegill fishing remains good, or should we say excellent. Jackie and fellow guide Billy Blakely brought in 578 from Friday through Sunday. They were even back at the docks by noon to beat the heat.
Now we're not saying you'll catch them at that rate, but suffice to say it's some good fishing. Usual baits are producing well: Crickets and jigs tipped with waxworms. Jackie's using crickets.
Crappie: Had a few fair catches recently even though the prime season has passed. They're scattered in anywhere from 4-12 feet. Minnows and jigs will produce, but jigs have been faring a little better as of late. Colors include blue/white and black/chartreuse. As always, don't just stick to these colors. Many others will work.
Bass: Another pretty good week for bass fishing also. Anglers have done well around the bonnets/lily pads. The bass will move up in there after the sun comes up and feed on the schools of minnows.
Shoreline fishing has tapered off a little, but don't look for that to last too long.
Baits are the usual: tube jigs (green pumpkin), spinnerbaits (white/chrt), spoons, buzzbaits and almost any lure that looks like a minnow.
Catfish: Still excellent. The recent rains have the current back in the ditches and that's been one of the preferred spots. Find a muddy or dingy looking spot if you can. The ditch up at Walnut Log has a lot of current and both boat and bank fishermen have done well.
Other ditches that should produce include Horse Island Ditch, Nation's Ditch, Will Bar Cut-off and Brewer Bar Cut-off.
Stripes (yellow bass) - Finally getting a few reports on these warm weather rascals. Pin minnows fished below a slip bobber work well. Green Island Point, Swan Basin and out from Gooch's (White's Landing) are top areas.
Click Here
For Other Reelfoot Lake Fishing Reports
Jackie Van Cleave is a guide for Blue Bank Resort. For more information on Jackie's guide services: Click Here
---
Questions and Comments:
Email the Webmaster
Here




Phone: 731-286-NETW
828 Granger Circle
Dyersburg, TN 38024
Page designed by : The Hometown Network
All contents except Mallards on front page and David Maass
artwork are property of Reelfoot.com