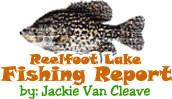 Reelfoot Lake Fishing Report
June 28 2016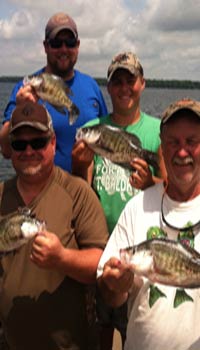 DESPITE HOT WEATHER REELFOOT LAKE FISHING STILL PRETTY GOOD

Jackie Wayne's Back...it's time for another fishing report for Reelfoot Lake...it's still good fishing.
There have been some nice mornings when the bite was on until mid-afternoon when we pitched in the towel
Water temp is in the mid 80s...Lake level is pool level.
Crappie have been hitting fair to good...10 to14 feet has been productive. The crappie are bunched up...fish slow and when you catch one stay there for a little while.
Bass fishing is good...their biting white \ chart. spinner baits around pads in ditches, and shore lines.
Bluegill are still on bed in 2 to 5 feet of water...use wax worms, crickets, or jigs tip with wax worms.

Catfish are biting good in 3 to10 feet of water...on night crawlers, stink bait, and cut shad...fish shore lines, logs, trees, and ditches.
Don't forget your sun block and remember to take a kid...
Till next time God Bless and have fun!
Thanks Jackie Wayne!
.
For fishing guide give me a call....

731-431-9700
Jackie Wayne


Click Here
For Archived Reelfoot Lake Fishing Reports
For more information on Jackie's guide services: Click Here
---

Page designed by : Reelfoot.com
All contents except Mallards on front page and David Maass
artwork are property of Reelfoot.com