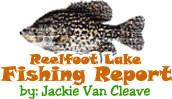 Reelfoot Lake Fishing Report for:
June 29th, 2007
Still not too bad on Reelfoot going into July. The lake is low and the heat is rough, but there are still some fish biting. Use plenty of sunscreen. Even in the cloud cover you can get too much sun. As far as stumps: There are plenty of stumps to hit at this low level. It's not a question of will you hit some stumps, it's a question of when. Go slow out there and use a motor that will kick up if possible.
Water temperature is 85 degrees. Lake level is about 7-8 inches below pool level. Here's the rest:
Crappie - It's fair for this time of year. Depths of 8 feet and more are best. Jigs have been working well lately.
Cover some ground until you find a spot and work it slowly once you do.
Bass - Slow to fair. Same old baits, just use your favorite. Hit them early and late.
Bluegill - Good. Slowing down a bit. You should still catch 30-40 fish pretty easily. Depths of 1 1/2 to 5 feet are good. Crickets are the top bait.
Catfish - Excellent. Leave it to Mr. Whiskers to provide some summer action. They're catching them on blocks, rod and reel and about anything else.
Nightcrawlers, shad gut and stinkbait are all good baits. Jackie is a die hard nightcrawler fisherman. He'll usually just use 1/2 of a worm and thread it on the hook so that it hands straight.
Good Fishing!
Click Here
For Other Reelfoot Lake Fishing Reports
Jackie Van Cleave is a guide for Blue Bank Resort. For more information on Jackie's guide services: Click Here
---
Questions and Comments:
Email the Webmaster
Here




Phone: 731-286-NETW
828 Granger Circle
Dyersburg, TN 38024
Page designed by : The Hometown Network
All contents except Mallards on front page and David Maass
artwork are property of Reelfoot.com