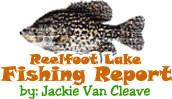 Reelfoot Lake Fishing Report for:
June 30th, 2006
I've been behind on the fishing report, due to vacations and such. But to be honest, it doesn't sound like we missed too much. Fishing overall has been slow except for catfishing lately. So, there's not a lot to say right now. The dog days of summer are setting in.
Water temperature is at 84 degreees. Lake is at pool level. Here's the rest:
Crappie- Fair. You can still catch a few early and late in the day. Try minnows and try deep (10-14 feet). Fish very slow. If you hit a fish or two stay with them. You probably won't tear them up, but they should be bunched up a little right now.
Bass- Slow. Not much else to say.
Bluegill- Slow. The cooler temps lately may have felt good, but it didn't help the bluegill any.
Catfish- Good to excellent. The Strike King stinkbait has been working well lately. The edge of the pads and showing logs are good places to try.
Stripes (Yellowbass)- No reports.
Click Here
For Other Reelfoot Lake Fishing Reports
Jackie Van Cleave is a guide for Blue Bank Resort. For more information on Jackie's guide services: Click Here
---
Questions and Comments:
Email the Webmaster
Here




Phone: 731-286-NETW
828 Granger Circle
Dyersburg, TN 38024
Page designed by : The Hometown Network
All contents except Mallards on front page and David Maass
artwork are property of Reelfoot.com