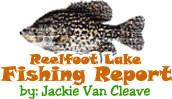 Reelfoot Lake Fishing Report for:
June 3rd, 2008
Bluegill and catfish are leading the way this week. Crappie are in post spawn, but not too bad of a post spawn. Bass are fair.
Here's what to expect in the next few weeks. The crappie should pick back up soon and have a few good week before the dead of summer arrives. Bluegill fishing should remain good for the next month or so, maybe longer. Catfishing should just get better and better. Bass fishing, well you never know about them. The periods of early and late in the day should be good bass fishing times as the water continues to warm up.
The lake level is down an inch or two below pool level. The water temperature is 76 degrees. Here's the skinny:
Crappie - Crappie are still suffering from the post spawn blues, but it's not as bad as some post spawns. It would be considered fair to good right now.
Anglers are having luck fishing the deep stumps with minnows and jigging around the trees and lily pads.
Bass - Bass fishing is also fair to good. Shoreline fishermen are doing well with spinnerbaits and 6" grape colored plastic worms. They are also bring in some nice fish on the deeper cypress trees with plastic worms and lizards.
Bluegill - Bluegill fishing is good to excellent. They're biting on both crickets and jigs tipped with waxworms. Just to let you know, Jackie has been fishing crickets. The float top bonnets are producing for jig fishermen. Just toss up on top of the bonnet and let it slide off gently.
Remember, turn as many big females loose as you can to help ensure great fishing for years ahead.
Catfish - Catfishing is excellent right now. Anglers are doing well on rod and reel, yo-yos and jugs (blocks). We're seeing lots of jug fishermen lately. Anglers are also bringing in a lot of catfish while bluegill fishing with crickets.
Top bait is whatever works for you. They're biting on nightcrawlers, stinkbait, shad gut, liver and even hot dogs.
Stripes (Yellow Bass) - No reports.
Good Fishing to All!
Click Here
For Archived Reelfoot Lake Fishing Reports
Jackie Van Cleave is a guide for Blue Bank Resort. For more information on Jackie's guide services: Click Here
---


Phone: 731-286-NETW
828 Granger Circle
Dyersburg, TN 38024
Page designed by : The Hometown Network
All contents except Mallards on front page and David Maass
artwork are property of Reelfoot.com