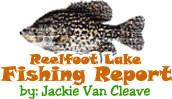 Reelfoot Lake Fishing Report for:
June 4th, 2004
The wind finally laid down on Thursday for the first time in....well, in a long time. Wind is always a factor during the sping, but this year must have broken the record. The wind started in mid-March and has blown ever since. They're predicting it to stay calm through Saturday. Here's hoping they're right.
Bluegill are still biting well, as are catfish. The bass have been doing ok and even the crappie picked up this week for a few anglers.
Lake level is about 4 inches above pool. Temperature on the main lake was at 78 as of Wednesday. Here's the rest:
Bluegill: Bluegill fishing is good and will probably remain that way for at least a few more weeks. They're still bedded up around trees, grasslines, stumps, logs and about everywhere else. It may take a little while to find them, but once you do you should have some action.
One of the bonuses with bluegill fishing is that you'll also pick up some catfish along the way, especially when fishing crickets. To see what a typical day bluegill fishing on Reelfoot looks like, just check out...this picture from Eagle Nest Resort.
Crappie: Been slow the last few weeks, but had some good reports this week. No telling how long it will last this time of year. May be over already.
Jigs up in the shallow water around the bonnets and minnows out in the deep water (14+) could produce some more good catches if you're lucky. ONe jig color that was mentioned was pink and chartreuse.
Bass: Bass fishing was good this week. Catching a good number of fish in the shallow water around the usual struture (bonnets, trees, etc.). Might also try 4 1/2 to 6 feet of water around logs for bigger fish.
Tubes are working well around the bonnets. Around the trees you might try a shallow water crankbait. Try a jig and pig or a big spinnerbait for the deeper structure.
Catfish: It's not just good, it's excellent. They're catching them on yo-yo's, rod and reel and about anything else. Try 2-6 feet of water.. Nightcrawlers are the top bait.
Stripes (yellow bass) - no reports.
Click Here
For Other Reelfoot Lake Fishing Reports
Jackie Van Cleave is a guide for Blue Bank Resort. For more information on Jackie's guide services: Click Here
---
Questions and Comments:
Email the Webmaster
Here




Phone: 731-286-NETW
828 Granger Circle
Dyersburg, TN 38024
Page designed by : The Hometown Network
All contents except Mallards on front page and David Maass
artwork are property of Reelfoot.com